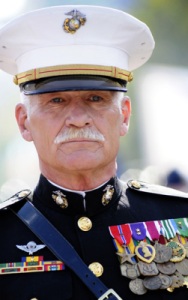 Guest Speaker – Dale Dye
236th Marine Corps Birthday Ball
What: 236th Annual Marine Corps Birthday Ball
When: November 10, 2011
Location: Branson Convention Center (Hilton)
Cost: $60 per person
Attire: Semi-formal
Speaker: Dale A. Dye
For reservations or information call: (800) 569-3493
After joining the Marine Corps at 18, Dale Dye served in Vietnam in 1965 and 1967 through 1970 surviving 31 major combat operations. He emerged from Southeast Asia highly decorated including three Purple Hearts for wounds suffered in combat. He spent 13 years as an enlisted Marine, rising to the rank of Master Sergeant before he was chosen to attend Officer Candidate School. Appointed a Warrant Officer in 1976, he later converted his commission and was a Captain when he was sent to Beirut with the Multinational Peacekeeping Force in 1982-83. He served in a variety of assignments around the world and along the way managed to graduate with a B.A. in English from the University of Maryland.
He worked for a year at "Soldier of Fortune" Magazine when he finally decided to retire from the Marine Corps in 1984. He spent time in Central America, reporting and training troops in guerrilla warfare techniques in both El Salvador and Nicaragua before leaving the magazine in 1985 and heading for Hollywood.
Starting with the Academy Award-winning Platoon, Dye has matched his mission with Hollywood's need to look smart. His specialty is training. By putting actors through a week or more of military-like drills—as he did for Steven Spielberg's Saving Private Ryan and Tom Hanks's Band of Brothers, and most recently in the new HBO maxi-series The Pacific, –he makes them convincing soldiers and better actors. He has worked on more than fifty movies and television shows. He's also a well-known actor, and can be seen in TNT's Falling Skies.
He is also an accomplished author, having written six novels including the best-selling novelization of Platoon. His latest book is the gripping Peleliu File, companion to his earlier Laos File. He and his wife Julia also co-wrote the graphic novel Code Word: Geronimo.
Lt. Col. Dave Grossman, USA (Ret.), best-selling author of 'On Killing' and 'On Combat,' said "Capt. Dale Dye has done more than any other man alive to influence the way that America (and the rest of the world) views the U.S. military."
For reservations or information call: (800) 569-3493
Disclaimer: BroadcastBranson.com is a service for the distribution of press releases, news and events. BroadcastBranson.com does not verify the validity or accuracy of the contents of the news that it distributes. Users are responsible for the contents of the press releases they submit to BroadcastBranson.com and the distribution via our service does not imply endorsement. BroadcastBranson.com takes no responsibility and holds no liabilities for information distributed.