College of the Ozarks Keeter Center Culinary Team Members Win "Best" at Chocolate Competition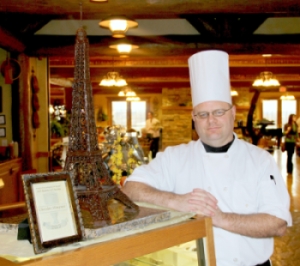 C of O Keeter Center Kitchen Supervisors Nancy Frew and Chris Freeman received first place awards at the "Art and Romance of Chocolate" show and competition. The event was held at the Brick City Gallery in Springfield, Missouri, on January 22, 2012, and was sponsored by the Friends of the Springfield Art Museum.
Participants representing 18 different restaurants, candy shoppes and bakeries competed in six different categories. College of the Ozarks won first place in two out of the six categories. Frew won the "Best Dessert" award for her Chocolate Coconut Butter Cake, often found on the dessert buffet at Dobyns Dining Room's sunday brunch.
"This is the second year in a row the Dobyns Culinary Team has won the "Best Dessert" award in this competition," says Executive Chef Robert Stricklin. In addition, Freeman sculpted a two-foot tall replica of the Eiffel Tower using Barry Callebaut semi-sweet Belgian chocolate. The original edible art, made completely from chocolate and for show, won the award for "Best Chocolate Showpiece."
Chef Stricklin also recruited three culinary arts majors as volunteers to assist with The Keeter Center display. They served 200 guests, who enjoyed chocolate-themed treats. Students Hannah Burke from Pleasant Hill, Missouri, Eva Creech from Colorado Springs, Colorado, and Alyssa Long from Mt. Vernon, Missouri, served a steady stream of guests.
"The show and competition, which served as a great opportunity to promote The Keeter Center as a dining destination, gave the culinary team members the opportunity to sharpen their skills through competition," says Chef Stricklin. "It also gave students the opportunity to learn skills in catering, special event operations and guest service."
For more information, call Associate Professor of Hotel and Restaurant Management Jerry Shackette at (417) 690-2119 or e-mail [email protected]
Disclaimer: BroadcastBranson.com is a service for the distribution of press releases, news and events. BroadcastBranson.com does not verify the validity or accuracy of the contents of the news that it distributes. Users are responsible for the contents of the press releases they submit to BroadcastBranson.com and the distribution via our service does not imply endorsement. BroadcastBranson.com takes no responsibility and holds no liabilities for information distributed.