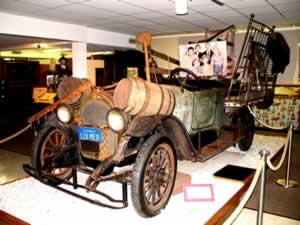 This year Rural Missouri, a statewide publication of Missouri Electric Cooperative, reaching more than over 500,000 rural homes in Missouri, announced its list of "favorites." This served as the 11th annual Best of Rural Missouri Readers Choice contest. Individuals cast their votes by e-mails, phone calls, and letters for the best restaurant, best barbecue, best coffee shop, best museum and more. The Ralph Foster Museum was voted the "Best Museum" of Missouri.
The Ralph Foster Museum is dedicated to the history of the Ozarks region. Named in honor of the late Ralph D. Foster (radio pioneer and philanthropist), it houses thousands of objects representing archaeology, history, firearms, antiques, numismatics, natural history, fine arts, geology and mineralogy.
Among other things, the Museum houses the original Beverly Hillbillies car, Rosie O'Neil's Kewpie Doll Collection and one of the largest gun collections in the country.
The Ralph Foster Museum is open from 9 a.m. to 4:30 p.m. Monday through Saturday. The cost of admittance is $6 for adults, $5 for senior citizens and ages 18 and under are free. For further information, please contact the Museum at (417) 690-3407.
College Of The Ozarks
Point Lookout, MO 65726
(417) 690-2212
For More Information: Elizabeth Andrews Hughes, Public Relations
Disclaimer: BroadcastBranson.com is a service for the distribution of press releases, news and events. BroadcastBranson.com does not verify the validity or accuracy of the contents of the news that it distributes. Users are responsible for the contents of the press releases they submit to BroadcastBranson.com and the distribution via our service does not imply endorsement. BroadcastBranson.com takes no responsibility and holds no liabilities for information distributed.