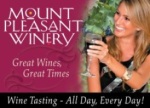 Mount Pleasant Winery invites everyone for their weekly "Friday Wine Down" event from 5 pm to 7 pm. This week they are featuring Cindy Blissard, one of the featured female singers at the original Roy Clark Theatre, accompanied on the piano by Terry Laird who is currently performing with the Rankin Brothers classic rock and roll show. You will be surprised at the types of music you will hear. And Mount Pleasant Winery guarantees you a fun filled Friday evening!
Mount Pleasant Winery
31225 Green Mountain Drive
Branson, MO 65616
417-336-9463
Disclaimer: BroadcastBranson.com is a service for the distribution of press releases, news and events. BroadcastBranson.com does not verify the validity or accuracy of the contents of the news that it distributes. Users are responsible for the contents of the press releases they submit to BroadcastBranson.com and the distribution via our service does not imply endorsement. BroadcastBranson.com takes no responsibility and holds no liabilities for information distributed.