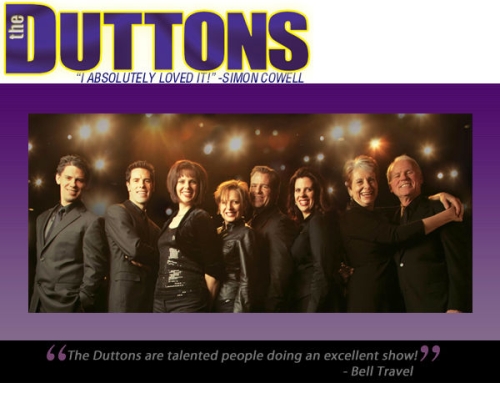 Dutton Theater Shows – Week of April 9 – Performances Monday Through Friday then On the Road Again!

Another Week of Great Shows!: If you didn't get a chance to catch our opening weekend last Thursday, Friday and Saturday, hang on tight because we have a week of great performances for you.

Duttons are on this week Monday – Thursday at 8pm and George is on Tues and Thurs at 2pm with an 8pm show on Friday. All kinds of things going on here. Both shows have been met with RAVE reviews for the new season, so be sure to get your piece of the action and come on over for some GREAT entertainment! Do it soon or you will have to wait a week to catch The Duttons. Heck, since The Duttons are going out of town on Friday, lets throw in a preview here of the wee, of April 16, so you will know what is coming….
On the Road Again
Duttons go EAST: Just when the dust had settled in Branson from our arrival, The Duttons get to take off for the wilds of the East Coast. Do you have a tour company or a travel agent you would like to see the show? Give us a call and we will see what we can do about getting them tickets. The tour schedule is as follows:
Sat April 14, Charleston, WV
Tues April 17, New London, CT
Wed April 18, Warren, OH
We figured since we have been out west all Winter, it was time to give the east coast a try. Watch out New England, here we come!
Another Stylin' Season at Abby's Tourist Trap
Branson Souveniers, Ice Cream and MORE!: I don't know about everyone else, but when I travel I HAVE to have a t-shirt from the location I visit. It is sort involved with that smug look you can give people that says, "Oh yeah, I've been there." and the shirt does it for you! What better place to pick up your shirts, postcards, and other Branson paraphenalia then Abby's Tourist Trap, located right next to the Dutton Family Theater. She has t-shirts, sweatshirts, hats, toys, keychains and souveniers GALORE. Plus, just this week Abby added fresh baked cobbler to her snack menu joining the scrumptious selections of cookies brownies and the best soft serve ice cream money can buy! Come on over and let your inner tourist SHINE and get that t-shirt so everyone knows where you have been.
Disclaimer: BroadcastBranson.com is a service for the distribution of press releases, news and events. BroadcastBranson.com does not verify the validity or accuracy of the contents of the news that it distributes. Users are responsible for the contents of the press releases they submit to BroadcastBranson.com and the distribution via our service does not imply endorsement. BroadcastBranson.com takes no responsibility and holds no liabilities for information distributed.