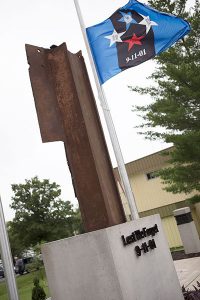 College of the Ozarks will honor the victims of the September 11, 2001, terrorist attack with a special ceremony on Monday, Sept. 12, at 9 a.m., at the "Lest We Forget" 9/11 Memorial, located next to the C of O Fire Department on the College of the Ozarks campus on James Forsythe Drive.
The official commemoration will be held on Monday to allow C of O and S of O students to attend and give honor and respect to those who have died in defense of this country and for the safety of its citizens. Their attendance serves as part of their educational experience.
The College invites all area emergency personnel, first responders, and the general public to participate in the brief ceremony on Monday.
"This year, we are honoring those who fought in the War on Terror after 9/11," said Bryan Cizek, director of patriotic activities.
The College will honor Special Warfare Operator Senior Chief (SEAL) Thomas Arthur Ratzlaff, who was killed when a coalition CH-47 Chinook helicopter was shot down in Afghanistan on Aug. 6, 2011. Ratzlaff was assigned to an East Coast based Special Warfare Unit. He was on his 12th deployment in support of the War on Terror with nine previous deployments to Afghanistan and one to Iraq.
Ratzlaff is from Green Forest, Arkansas. Family members of Ratzlaff, including his mother and sister, Nancy Ann (Anderson) Ratzlaff and Julie Adams, will raise the 9/11 flag as part of the solemn ceremony.
On Sunday, Sept. 11, approximately 3,000 American flags will be displayed on the Alumni Lawn at the front entrance of the campus.
More about the Memorial
The memorial contains one of the remaining remnants of the World Trade Center structure, and the steel column is a permanent part of the memorial.
Retired police officer Tommy McHale donated the mangled piece of steel column from the World Trade Center. McHale wanted to honor the 37 fallen men and women officers from the Port Authority for New York and New Jersey who perished on 9/11.
The structure is referred to as "St. Michael's 37." St. Michael is considered the patron saint of police officers and represents strength to face the threat of evil and imminent danger.
For additional information, contact Bryan Cizek, director of patriotic activities, at (417) 690-2232.
Disclaimer: BroadcastBranson.com is a service for the distribution of press releases, news and events. BroadcastBranson.com does not verify the validity or accuracy of the contents of the news that it distributes. Users are responsible for the contents of the press releases they submit to BroadcastBranson.com and the distribution via our service does not imply endorsement. BroadcastBranson.com takes no responsibility and holds no liabilities for information distributed.