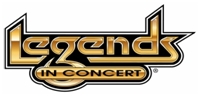 Legends in Concert
Dick Clark's American Bandstand Theater
1600 W Hwy 76 Branson, MO 65616
www.legendsinconcert.com
FOR IMMEDIATE RELEASE
Contact: Tiffany Powers
417-339-3003 ext.3010
[email protected]
Legends in Concert Branson Theatre Repairs Underway From Tornado Damage
Performances Suspended Through March; April Reopening Planned
BRANSON, MO – (March 6, 2012) – Celebrated tribute artist production 'Legends in Concert' announced today that repairs have commenced on its home in the Dick Clark's American Bandstand Theater, following the impact of the tornado that touched down in Branson on February 29. The restoration plans have been completed, delivery of replacement building materials have begun and dozens of construction workers are in full swing making all the needed renovations, after receiving confirmation that the theater suffered no structural damage.
"The tornado's impact and damage to our theater was serious enough to require the cancellation of our March 2012 schedule of performances," said Jeannie Horton, General Manager for Legends in Concert. "We are working closely with Jim Morris, the theater's owner and his team to insure that the necessary repairs are completed on a timely basis. We are confident the completion of the repairs to the theater will proceed quickly and result in the same safe and enjoyable facility millions of our fans have always depended on enjoying, upon their visits to Branson. Our hearts and prayers especially go out to those in the Branson community that were even more adversely affected by the tornado."
Mr. Morris said he is "dedicated and diligently working with the producers of Legends in Concert to reopen the theater as rapidly as possible. Their outstanding live entertainment production is an essential part of our Highway 76 and Fall Creek complex including the Ramada Hotel, Midtown Cafe, and soon to be reopened classic automobile museum under the theater, all attractions which complement one another so well." Morris added, "Although the damage is unfortunate, and my thoughts are with those residents who have suffered from the storm, not even a tornado can shake my long-time confidence and commitment to Branson."
Dick Clark's American Bandstand Theater, the ultimate Branson rock n' roll complex, was built in 2006 and boasts 900 seats. It's innovative design creates an intimate concert space with great sight lines to the stage, cushy comfortable seats with generous leg room, a dance floor, state of the art projection screens, a brand new million dollar spectacular stage set and fascinating memorabilia from Dick Clark's American Bandstand archives, recalling the historic roots of rock n' roll and country.
"Although we regret the relatively short disruption to our 2012 season, and appreciate our fans and business partners' patience while the renovations are underway, the theater will be better than ever when the repairs are complete to this fabulous entertainment facility," said Brian Brigner, chief operating officer for "Legends" producer On Stage Entertainment. "We've enjoyed 16 wonderful years' operating our production in this community and look forward to many, many more."
"Jeanne and I were both on site just minutes after the tornado hit. We appreciate the professionalism and efforts her team have made, as everyone deals with the impact of the tornado," said Jerry Carroll, manager of Morris Branson Theatre LLC, and other properties of Mr. Morris. Carroll added, "We will continue to work side by side with them towards a prompt reopening of the theater."
Legends in Concert will soon announce the resumption date for its 2012 performance schedule. Performances will resume 6 days a week through the end of December as previously scheduled. For tickets to performances beginning in April which remain on sale, information about exchanging or obtaining refunds for tickets previously purchased, for cancelled March performances or the current line-up, please call 417-339-3003 or visit legendsinconcert.com.
About Legends in Concert
Celebrating its 29th year, "Legends in Concert" is a live musical celebration featuring the world's greatest celebrity tribute artists. The product is owned and operated by Las Vegas based On Stage Entertainment, Inc. Widely recognized in the entertainment industry as the original celebrity tribute show, "Legends in Concert" has not only performed throughout the United States, but the show has traveled to 15 countries on five continents, entertaining more than 25 million fans. It currently operates numerous fixed-based, touring, limited-term and private engagements of "Legends" throughout the world. In addition to Las Vegas, "Legends" is presented year-round in numerous cities including Myrtle Beach, S.C., Branson, Mo., Atlantic City, N.J., Foxwoods, CT, Waikiki, HI and on the high seas onboard the Norwegian EPIC. For more information: www.legendsinconcert.com
About Jim D. Morris
Morris Branson Theatre LLC is wholly owned by Jim D. Morris. He continues to own and operates Morris Oil Company in addition to the Quality Inn and Ramada Inn in Branson and other business throughout Missouri. Mr. Morris is recognized for his many community, charitable and humanitarian achievements.
###
Disclaimer: BroadcastBranson.com is a service for the distribution of press releases, news and events. BroadcastBranson.com does not verify the validity or accuracy of the contents of the news that it distributes. Users are responsible for the contents of the press releases they submit to BroadcastBranson.com and the distribution via our service does not imply endorsement. BroadcastBranson.com takes no responsibility and holds no liabilities for information distributed.