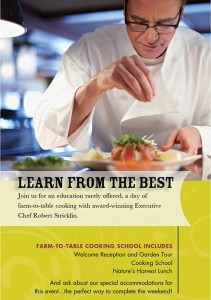 Farm to Fork Cooking School – October 25, 2014
LEARN FROM THE BEST
Chef Robert StricklinJoin us for an educational opportunity rarely offered, a day of farm-to-table cooking with award-winning Executive Chef Robert Stricklin.
$89 per person, + $17.80 sc + $6.52 (tax)
Total per person: $113.32
FARM-TO-TABLE COOKING SCHOOL INCLUDES
Welcome Reception and Garden Tour,
Cooking School,
Nature's Harvest Lunch.
October 25, 2014
ONLY 12 SPACES AVAILABLE
RESERVE TODAY!
And ask about our special accommodations for this event…the perfect way to complete the weekend!
Phone 417-690-2122.
Disclaimer: BroadcastBranson.com is a service for the distribution of press releases, news and events. BroadcastBranson.com does not verify the validity or accuracy of the contents of the news that it distributes. Users are responsible for the contents of the press releases they submit to BroadcastBranson.com and the distribution via our service does not imply endorsement. BroadcastBranson.com takes no responsibility and holds no liabilities for information distributed.