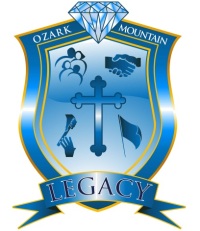 OZARK MOUNTAIN LEGACY LAUNCHES YOUTH CHARTER INITIATIVE
Citizens from across OMC gather to discuss our preferred Youth Culture in OMC
Over twenty passionate individuals from across Ozark Mountain Country gathered last week to discuss our ideal Youth Culture to help our area youth succeed. Teachers, coaches, pastors, police, parents, superintendents, young people and young at heart gathered at the God and Country Welcome Center, in Branson, with one common goal: to deliver our Ozark Mountain Legacy Values to our next generation – in a way that speaks the language of our youth, shows them that we really care and invites our youth to participate in this important community process.
Inspired by the book, The Youth Charter – by William Damon, Jory Rolf, Legacy Administrator, envisioned our community coming together to be more intentional and cooperative in helping our young people: build a stronger sense of purpose, experience a greater sense of community and community values and to become the most effective future leaders of our area and country.
The YOUTH CHARTER is an approach that brings together all adults who are in positions to influence young people – parents, teachers, town officials, police, clergy, sports coaches, club leaders, counselors, news media, employers and our area youth – in a quest to cooperatively define our community's ideal standards for successful youth development.
The next Legacy Youth Charter Meeting will be July 21 from 6:30-8:00pm at the YMCA in Hollister. The Legacy Youth Charter Catalyst Team invites you to participate in this very important and impactful next step meeting. Young people are invited to attend.
For more information visit www.ozarkmountainlegacy.org
To RSVP, please call 417/598-1314 or email: jory@ozarkmountainlegacy.org.
Disclaimer: BroadcastBranson.com is a service for the distribution of press releases, news and events. BroadcastBranson.com does not verify the validity or accuracy of the contents of the news that it distributes. Users are responsible for the contents of the press releases they submit to BroadcastBranson.com and the distribution via our service does not imply endorsement. BroadcastBranson.com takes no responsibility and holds no liabilities for information distributed.