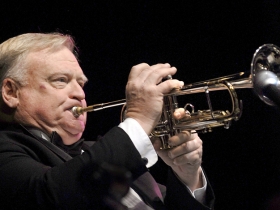 The Bank of Missouri is pleased to announce they will bring big band dancing to the Branson Veterans Homecoming Week. Jerry Ford's 14-piece orchestra from Cape Girardeau will have six performances during the Branson Veterans Homecoming Week in November. The dances are open to all Veterans and the public.
"This is the first time big band dancing has been available to our veterans in Branson," stated David Cook, Community Bank President of The Bank of Missouri in Branson. "The Bank of Missouri's mission is to give back to the communities we serve. We are all proud of our veterans and happy to bring this event to them and the public."
Ford has been entertaining audiences throughout the Midwest for decades, has performed with many national performers, and has played for the past five Missouri Inaugural Balls in Jefferson City. "We are excited to bring our big band style of music to Branson," Ford stated.
Dances will be held at Our Lady of the Lake Parish Hall during Veteran's Week on November 6, 7 and 8. For tickets, call 1-800-689-3969.
The Bank of Missouri is an independent community bank located at 800 Highway 248 in Branson. Other locations include the Missouri towns of Perryville, Cape Girardeau, Jackson, Marble Hill, Columbia, Springfield, Republic and Ozark.
Disclaimer: BroadcastBranson.com is a service for the distribution of press releases, news and events. BroadcastBranson.com does not verify the validity or accuracy of the contents of the news that it distributes. Users are responsible for the contents of the press releases they submit to BroadcastBranson.com and the distribution via our service does not imply endorsement. BroadcastBranson.com takes no responsibility and holds no liabilities for information distributed.